Over the last few weeks, some of Wigan Youth Zone's talented members have been hard at work becoming the next media super-stars!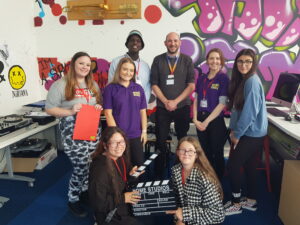 The group, also known as the "Roving Reporters", is comprised of seven senior members who are working in collaboration with Media Cubs. The aim of these sessions is to create a variety of documentary-style videos surrounding the holiday club provisions being hosted throughout the Wigan and Leigh area and to give young people an insight into the world of journalism and media.
The Roving Reporters have had the opportunity to visit a number of different holiday clubs and perform some on-location filming. This involved interviewing a number of people, including the Chief Executive of Wigan Council, Alison Mckenzie-Folan.  They were able to ask a series of engaging questions and were able to benefit from all of the amazing knowledge that she provided.
Our young people were able to use a variety of high-tech equipment on their filming sessions, including a gimbal, film camera, and they even had a Hollywood-style clapperboard to begin and end their shots. They are also going to be getting hands on experience with editing software when they begin to put the videos together in the coming weeks.
100% of the members who took part in these sessions reported that they felt more confident, learned something new, and felt like their views and opinions were important.
Roving Reporter member Natasha said:
"I think that this opportunity has improved my confidence and has created a pathway into reporting for me!"
Grace Dyke, Media Cubs leader, said:
"Working with the Wigan Youth Zone Roving Reporter team has been a real highlight of 2021- every member of the reporter team has blown us away with their willingness to learn something new and to be pushed out of their comfort zones – from presenting in front of the camera, to directing the team using the clapper board. To see the team grow in confidence in such a short space of time has been amazing – we can't wait to see the final results and to celebrate their efforts at a Wigan Youth Zone premiere!"
We are extremely grateful for the opportunity that Media Cubs have provided for our members and are delighted that the young people enjoyed working alongside them to create these videos.
If you would like to learn more about Media Cubs or Yellow Jigsaw, you can visit their website below https://www.mediacubs.co.uk/about-us/
It is hoped that with the continuation of such initiatives like the ones above, we will continue to give back to the wider Wigan and Leigh communities. To support the work of Wigan Youth Zone please visit https://www.wiganyouthzone.org/donate/