Volunteering at Wigan Youth Zone is a great way to get involved with your community, make a difference, enhance your skills and of course have fun along the way.
Volunteering is integral to what we do here at Wigan Youth Zone. Our fantastic bank of volunteers means that we have access to a wide range of skills, experiences and knowledge that young people can aspire to and learn from.
Our volunteers at Wigan Youth Zone must be aged 18 or over, however if you are between the ages of 14 and 17 you can become one of our Young Leaders – Click here to read more about our Young Leader Programme.
With such a wide range of opportunities to be involved with, volunteering can open up new opportunities for you as well. Whether you want to share your skills, learn new ones or challenge yourself to do something new, we have a role to suit you. You can work face to face with the young people or behind the scenes helping with administration or event planning.
As a volunteer you will undertake a full training programme to make sure you are equipped for your role, confident and feel integrated into our team. You will also have the opportunity to undertake further training. All our volunteers also undergo a DBS check at enhanced level.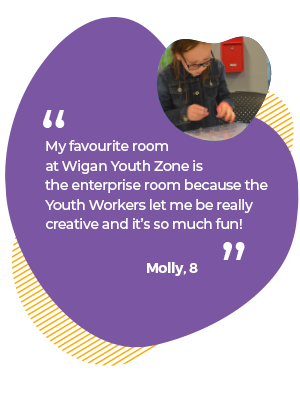 Wigan Youth Zone's new BBC Children in Need mentoring programme will support young people aged eight to 18-years from the local area. We aim to increase confidence, self-esteem and help young people make positive choices through one to one support.
We are looking for volunteers to provide support for young people through one to one mentoring for up to six months. Mentors will provide weekly mentoring sessions in an informal setting after school and at weekends, building a positive relationship with a young person. Full training is provided along with continued support throughout your journey.
If you would like to find out more, or to request an application pack, please contact Mentoring Coordinator, Mike Lomax on 01942 612061 or email mike.lomax@wiganyouthzone.org.
Please note that all applicants will be subject to an enhanced DBS check (funded by WYZ) along with two references.