Wigan Warriors legend Liam Farrell, 31, chose Wigan Youth Zone as a beneficiary from his testimonial, which celebrated his ten years' service to Wigan Warriors.
Liam was rewarded with a testimonial in recognition of outstanding service to the club and the game more widely – this was celebrated through a programme of fundraising to raise money for Liam, along with a charity of his choice.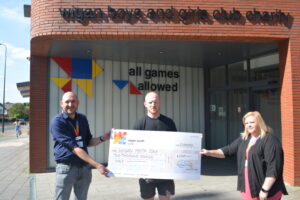 Liam said, "When I wanted to team up with a local charity, I wanted to ensure that I was giving back to the community and Wigan Youth Zone was the perfect opportunity for this. When I was a kid, there was nothing like this around – when I originally visited Wigan Youth Zone, the facilities they have are second to none. For the kids around Wigan and Leigh, this is a great place for them to go, feel supported and get involved in lots of activities and opportunities to develop themselves. I am proud to be a supporter of Wigan Youth Zone, it's a great place."
Anthony Ashworth Steen, the Executive Director of Wigan Youth Zone, said "We're absolutely thrilled that Liam had made such a huge commitment to our charity. It's an incredibly generous donation and will help us encourage even more young people to lead healthy, active and positive lives. Community-minded athletes like Liam are an inspiration to young people and this act of generosity shows how passionate and committed he is to making a difference for future generations."
There's plenty of ways to support Wigan Youth Zone by helping strengthen their provision and invest in the futures of Wigan and Leigh's next generation. Explore the ways you can make a difference to young people by contacting Sharon for an informal chat on sharon.mclaren@wiganyouthzone.org
Wigan Youth Zone is committed to supporting Wigan's young people by offering young people somewhere to go, something to do and some to talk to every day.
Free memberships and renewals are currently available for all young people of Wigan and Leigh. Please use the code FREEMEMBERSHIP at checkout here for your free membership or renewal.
It is hoped that with the continuation of such initiatives like the ones above, we will continue to give back to the wider Wigan and Leigh communities. To support the work of Wigan Youth Zone please visit https://www.wiganyouthzone.org/donate/