Pride celebrations return to Wigan Youth Zone this weekend!
Wigan Youth Zone is hosting their first big event since lockdown – showcasing tolerance and diversity.
This Saturday, Wigan Youth Zone will be throwing a Senior Pride After-Party, in addition to the festival-type events put on by Wigan Pride.
The event is aimed at welcoming the younger LGBTQ+ community and highlighting their commitment to diversity. It has become especially important in 2021 as many young people have never had the opportunity to celebrate Pride or attend a night out with their community.
On August the 14th, the after-party will take place at Wigan Youth Zone from 6 pm – 9 pm for senior member's only ( aged 11- 19 or 25 for those with additional needs.)
Youngsters are invited to support the Wigan Pride Event and continue their celebrations at our Pride After-Party, which will be filled with delicious food, refreshments, activities and the chance to meet other members of the community.
The fun-filled evening will consist of Disco inflatables, live music and performances, a drag competition, mocktails, pride art and crafts, pride games and party food.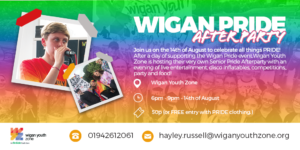 Safeguarding Lead and Senior Club Manager Hayley Russell said "Not being able to have a Pride event last year was very disheartening, obviously, we all understand why that was, but Pride is so important for so many people. We are so excited for an evening of nothing but positivity, colour and diversity."
Wigan Youth Zone's very own LGBTQIA+ Group "GLOW" meet every Saturday. The GLOW group welcome everyone and anyone to meet up for weekly discussions around issues that they feel the LGBTQIA+ community faces. They also create projects to raise awareness and plan events in the community. It is a group in which members can feel comfortable expressing their sexuality and identity while being able to talk freely to others who are in similar positions as a means of boosting their own self-confidence.
Wigan Youth Zone takes pride in diversity, acceptance and inclusion being at the very core of their culture, as well as openly displaying an LGBTQIA+ friendly environment in which everyone is welcomed and accepted. If you would like more information about Wigan Youth Zone's GLOW group please email Rachel.Hancock@wiganyouthzone.org.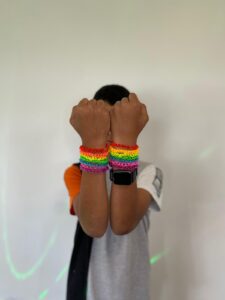 The Youth Zone is continuing their FREE Memberships and Renewals, simply call the centre on 01942 612061 to become a member.
It is hoped that with the continuation of such initiatives like the ones above, we will continue to give back to the wider Wigan and Leigh communities. To support the work of Wigan Youth Zone please visit https://www.wiganyouthzone.org/donate/