It was the first round of OnSide's Annual President's Cup on Saturday 23rd of April at  Mahdlo Youth Zone. Where young people from across the OnSide Network (North Division); came together to participate in a host of sports, arts and drama challenges with Wigan Youth Zone taking home the highly coveted 1st place trophy.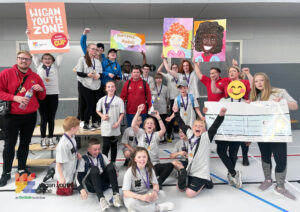 The OnSide President's Cup truly embodies the inclusive spirit of Youth Zones; it sees extraordinary young people from across the Network come together as Chorley, Wigan, Blackburn, Manchester, Bolton, Oldham, Warrington come together to make friends, take part in some fantastic activities and compete to be the North Division winner.
10 Youth Zones and over 200 youngsters piled into Mahdlo Youth Zone for the competition, where young people competed in a range of activities including fitness challenges, dodgeball and even performed a musical showcase.
Our group of seniors showed incredible talent, resilience and sportsmanship throughout the day, especially during the nail-biting dodge ball tournament. Meanwhile, our passionate Juniors embraced their competitive shine throughout all the challenges.
After Wigan Youth Zone took an early lead, The Hive Youth Zone effortlessly crept in going neck-and-neck making it a fierce competition! Eventually, Wigan Youth Zone fought for gold and finished in first place.
It wasn't all about sport though, performing arts and creative art were also showcased. Wigan's theme was the Musical Annie, young people were tasked with creating a performance and canvas painting to reflect this.
There was a double win for Wigan Youth Zone members, as we took home a £250 cash prize in the Enterprise Challenge after a brilliant pitch from our Bee-lieve Enterprise Team.
A massive congratulations to all the Youth Zones for a fantastic display of competition, sportsmanship and diversity. Wigan Youth Zone is already looking forward to the final round in the summer where we will look to build on the fantastic success we've had during the first round.
The whole day was a huge success and Mahdlo were incredible hosts throughout! The day was a fantastic demonstration of fair play, teamwork, individuality and friendship – roll on the summer for the Presidents Cup Final!