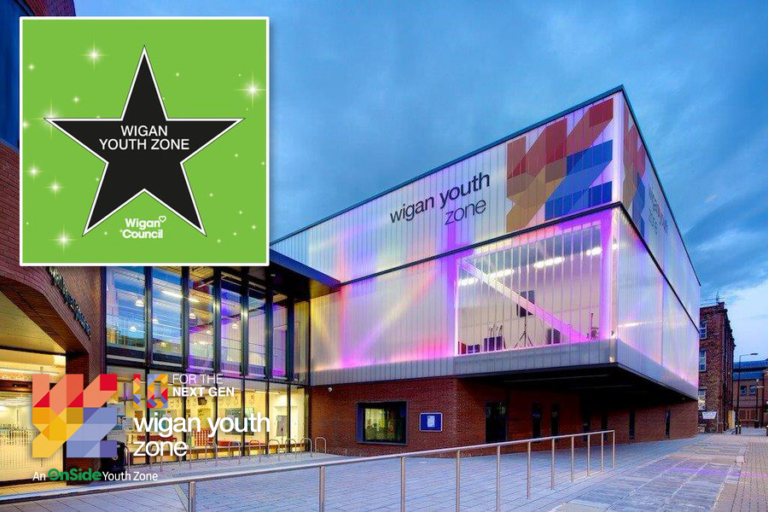 This year is extra special for us because we are celebrating our 10th birthday! And what better way to mark this milestone than by receiving a Believe Star from Wigan Council and being added to the Walk of Fame in Believe Square?
This is a huge honour for us and we are so grateful for the recognition of our work by the council. We will be joining other inspiring recipients such as Joining Jack, Joseph's Goal, Ella Toone and Keely Hodgkinson.
The Believe Star ceremony will take place later this year, and we can't wait to share it with you.
Leader of Wigan Council, Councillor David Molyneux MBE, said: "I remember the proposals for the Youth Zone coming through the council in the years leading up to 2013 and the excitement for the opportunity we had before us.
The 10 years since its opening have certainly lived up to those expectations. The services provided by its dedicated staff are vital and we are proud of what has been achieved through our partnership working.
We are lucky to have such an amazing site in our town and it has acted as a blueprint and inspiration for other Youth Zones across the country and also our own new Youth Hub in Leigh. We look forward to the next decade."
Chair of Wigan Youth Zone, Gary Speakman, said: "We are absolutely delighted that Wigan Council have decided to recognise the work of our charity by awarding us a prestigious Believe Star, which is a fitting recognition for all of those involved over the 10-year journey to date.
"When our founders, Bill Ainscough, Martin Ainscough and Dave Whelan, envisaged Wigan Youth Zone, along with our partners at OnSide and Wigan Council, it is hard to imagine that in their wildest dreams we would have accomplished the breadth and depth of services we offer to young people in Wigan and Leigh, or the impact this has made."
CEO of Wigan Youth Zone, Anthony Ashworth-Steen, added: "Wigan Youth Zone is much more than an impressive building, it is a charity whose roots spread across the entire borough through the relationships we build with thousands of young people.
"We should, rightly, use our 10-year milestone to reflect back and celebrate success, but it should also be a time to look forward to how we can best serve the young people over the next 10 years and beyond."
Stay tuned for more updates on our birthday celebrations and if you'd like to find out more about supporting this life-changing charity or would like to arrange a tour to see the difference Wigan Youth Zone is making, then please email sharon.mclaren@wiganyouthzone.org