Leading outsourcer Interact Contact Centres has announced it will partner with Wigan-based Youth Zone to support the charity in raising funds for young people of Wigan and Leigh.
Funds raised by Interact throughout the year will give young people unique, fun and inspiring opportunities such as residential & DofE expeditions, purchasing specialist equipment and supporting yearly memberships for young people.
As part of a year of support for the charity, which has been chosen by the team at Interact, it will help raise funds for Wigan Youth Zone. 

The charity will also benefit from regular exposure across Interact's network through press, communications and events.
Interact is one of the UK's leading customer experience (CX) outsourcers, and since being founded in 2011 has grown to be one of Wigan's largest employers. Interact partners with some of the world's leading brands providing digital messaging & chat, customer service, sales, and loyalty programmes. The company has UK contact centres in Wigan and Richmond Upon Thames.
The first Interact fundraising event took place on the 20th of March, where the Interact team ran 5k to support the charity. Other fundraisers include "Interact's Got Talent" on the 1st of April and 3 Peaks Yorkshire Challenge, taking place in July.
Wigan Youth Zone is a safe and inspiring place for thousands of young people aged 8 – 19, and up to 25 for those with additional needs, to enjoy their leisure time. Located in the heart of Wigan Town Centre, Wigan Youth Zone is a charity dedicated to supporting young people by providing three things that all young people need and deserve – somewhere to go, something to do and someone to talk to.
Inside the £6.6million Youth Zone, young people are welcomed by friendly, qualified staff and a team of committed volunteers. They have the opportunity to take part in over 20 fun and engaging activities every evening including sports, arts, music, media, dance, drama and much more.
Employability workshops and support is available for any young people who need help getting into employment, education or training. Inside Wigan's enterprise suite, young people will be encouraged to dream big and develop their entrepreneurial skills.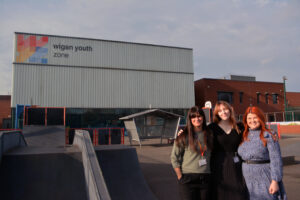 Speaking about the partnership Sophie Dorrell, Project Manager at Interact said:
"The Wigan Youth Zone resonates massively in the hearts of Interact's team – whether they've had the fortune of experiencing the incredible facilities themselves, or have children who frequent their clubs and classes, you cannot put into words the value that the Wigan Youth Zone adds to Wigan life. And that is why we are delighted, honoured and excited to be partnering with them this year helping to raise much-needed funds. From talent shows to competitive walks, we are determined to make an impact on the local community and the Wigan Youth Zone is a great place to start."
Lynsey Heyes, Head of Fundraising for Wigan Youth Zone said:
"We're extremely grateful to the Interact team for choosing to support Wigan Youth Zone this year. This partnership will really help to increase the profile of our charity and raise funds to support our vital work with young people across the borough. We have great ambitions for those we engage and cannot do it without the incredible backing from organisations like Interact and businesses across Wigan and Leigh."
After visiting Wigan Youth Zone for a recent Business Breakfast, Caroline Barber, Head of People & Culture at Interact said:
"I have just returned from my first visit to one of our Charity partners for 2022, Wigan Youth Zone, and I am truly inspired and motivated to lead my team to raise as much money as we can for this fantastic charity. I have been aware of Wigan Youth Zone for some time coming from Leigh myself, but have never been inside and from the minute I stepped into the building I was totally blown away. Lynsey and Sharon greeted my team and I with the biggest smiles and the warmest welcome, they gave us the full guided tour and we were so impressed with the variety and quality of the opportunities they offer! At Interact we are passionate about creating a family atmosphere and developing our people so they feel inspired and happy, and I know we have this goal in common. Interact have so many great ideas to raise money for the Youth Zone and hope we can create a partnership this year that continues even beyond 2022."
Wigan Youth Zone relies on donations and support from business investments along with kind donations from the local community. The charity needs to raise a minimum of £1.6 million every year to keep its doors open, with every donation going towards helping the young people of Wigan and Leigh discover a world of possibilities and create the future they deserve.
For more information on how you too can help Wigan Youth Zone support young people in Wigan and Leigh to look towards brighter futures and achieve their dreams please contact lynsey.heyes@wiganyouthzone.org