They say that learning is a treasure that follows its owner everywhere…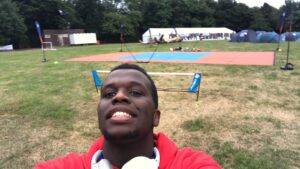 It is only recently that I came to understand that statement this summer. The 25th of July marked the day where I have noticeably used what I've learned through experience from the past two years at Wigan Youth Zone and Onside Network.
We called it the Crazy Summer Adventure with Onside from day one! On that day, Gemma, Kai, and I, the Wigan Youth Zone ambassadors, travelled down to London Euston, where we went to Future Youth Zone to be reunited with the rest of the ambassadors from across the country.
We received blue tops and welcomed the youth ambassadors from the United States. Together, we had an exchange program with them coming here, some of us going to the US. To welcome them, and as a treat for us, we spent the next four days exploring London and visiting places from Big Ben and the house of laws, going around the O2 arena and having a bowling day, and finally roaming the great tube system of London. We marked the Wigan Ambassador's end of the trip with a visit to a theatre in London and watching Grease the Musical.
On the morning of the 28th, we said our Goodbyes and headed to Birmingham New Street. I had taken a different train due to an issue with the trains on the day, but we all made it there eventually. We were then taken to Blackwell Adventure, a camping site where we spent seven days and six nights. We worked with various people with Youth Work backgrounds from ages 15-25. We had chats with them, got them to do challenges, swam with them, took them to the Commonwealth Games, and had campfire times with them where everyone showed us their talents such as music, dance, or storytelling. We even celebrated two birthdays and one of which was my own! Everyone had left camp very emotional as within the brief time we spent together, the team made a lot of memories that we would cherish for a long time. 
I have seen growth in both the London and the Birmingham teams. Both have improved in communication, confidence and even surviving in a camp. I found myself to have improved in speaking on the microphone and leading significant group events as well as event planning. And even still, there is more to learn. This is only a tiny part of my summer, and it's far from the end, but it is a great memory to be celebrated and remembered.
Saifeldeen Basdowa