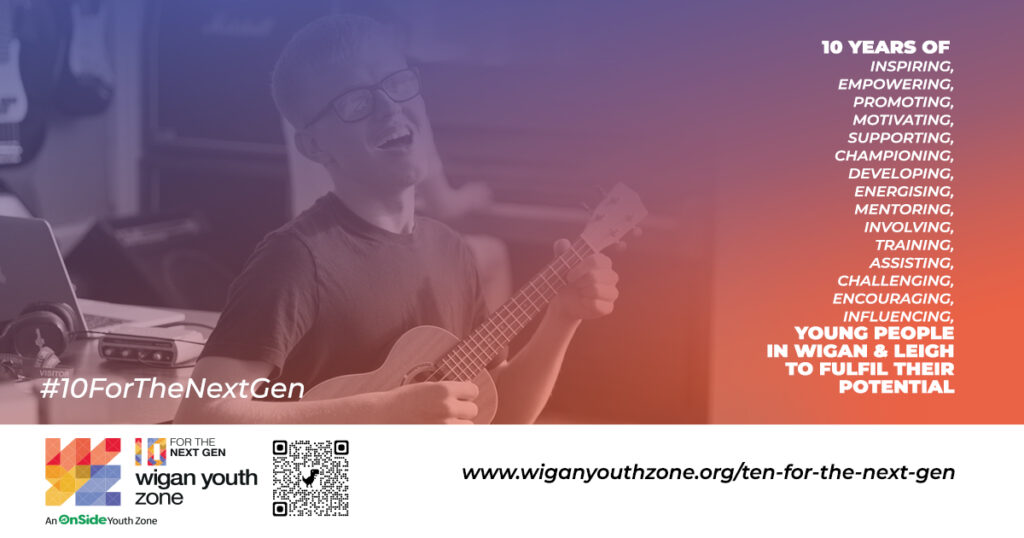 Since it was opened, 10 years ago, Wigan Youth Zone has been a lifeline for thousands of young people across the borough
Wigan Youth Zone kicked off their 10th Birthday celebrations at their charity ball on Saturday 18th March, at the DW Stadium. The event attracted over 300 local supporters who were delighted to celebrate the Youth Zone's achievements and to raise funds to maintain the services which have had a positive impact on the lives of over 30,000 young people in Wigan and Leigh since it opened.
The charity offers a range of much-needed services for young people (aged 8-19, up to 25 with additional needs) from its impressive 21st-century hub at Parsons Walk, as well as satellite centres across the Borough. All their services are designed to support the charity's vision which is to inspire and empower young people in Wigan and Leigh to fulfil their potential.
Since opening, Wigan Youth Zone's services have been accessed over 730,000 times and the results, in terms of their outcomes, have been impressive – for instance, externally validated research has demonstrated that young people accessing the Youth Zone are healthier, happier and more active.   
Young members who have been part of the charity's journey have been quick to express how Wigan Youth Zone has made a difference in their lives.
One senior member Katie, aged 16, said: "When I first started attending Wigan youth zone, I was 8 years old in Holiday Club, making friends and going on trips. The Youth Workers and staff at Youth Zone showed me how fun and rewarding it was to learn a new skill and get involved in new activities."
"Without Wigan Youth Zone, I wouldn't have met half the amazing people I have today, I wouldn't have the confidence to try anything outside my comfort zone. If I wasn't a member at the Youth Zone for the last 9 years, I wouldn't be half the person I am today."
Junior member Amelia, aged 10, added: "The staff are kind and help me when I need them."
"My favourite things to do are baking, music and dance. Me and my best friend met at the Youth Zone, and we have had so many opportunities, we are even performing in the Junior Choir at the Annual Ball."
The Youth Zone is open 7 days a week and offers up to 20 activities every evening to empower young people to channel their creativity and energy into activities they love in a fun, supportive and encouraging environment, equipping them with the life skills, confidence and independence that will benefit the community for generations to come.
Nikki Varley, Head of Youth Work, who was worked with Wigan Youth Zone since before opening, said: "Some things will never change. It is an amazing milestone for our Youth Zone and a testament to the work that has been undertaken over the last decade. We have an incredibly dedicated and passionate team who loves working with young people, and we are continually looking at ways to make a difference in the community and beyond. But our work does not stop here. We need to continue supporting young people in our community to become the best versions of themselves so that they can thrive for generations to come."
When asked about what Wigan Youth Zone means to the community, Chair of Wigan Youth Zone, Gary Speakman, commented "Despite having a fabulous town-centre base, it continues to be our priority that young people from across the Borough have the opportunities to engage with our services and team – whether that is by accessing the free transport we provide for young people to experience the facilities at Wigan Youth Zone, attending activities run from satellite locations across the Borough, or by engaging with our youth workers on their own streets, parks or estates. It delights me that our membership base comes from all over the Borough.
As a result of the work of our quite brilliant teams over that 10-year period, we have changed lives and generated c£40m of social value. For everyone associated with that 10-year journey, there should be a sense of pride, as well as gratitude to those founders who made it happen."
The 10th Anniversary Annual Ball Fundraiser raised a total of £75,000, which will go directly to supporting the lives of young people in Wigan and Leigh. The fundraising opportunities on the night included an online auction, a traditional auction and a raffle. As part of the 10th Birthday celebrations, Wigan Youth Zone launched their 10-month long campaign '10 for the next Gen'.
Through the '10 for the next Gen' campaign, Wigan Youth Zone will be highlighting the outcomes that the charity has achieved for the Borough and what it aims to do in the future. One thing that is clear is that the charity's work will continue to make a difference to thousands of young people if it continues to get the backing it needs from the local community.
Anthony Ashworth-Steen, CEO of Wigan Youth Zone commented "We're absolutely delighted to be celebrating our 10th birthday this year, where we can take the opportunity to reflect on our achievements over the past decade. It is a privilege to work with such a phenomenal, and award-winning, staff and volunteer team, who pull in the same direction to ensure that young people in our Borough receive the very best opportunities and support possible.  Wigan Youth Zone is an ambitious charity, but our ambition can only go so far – it needs people who are bought into making a proactive investment in young people. It needs the local community, and we are eternally grateful for the support we receive. Together, we are planting the seeds for years to come."
Wigan Youth Zone officially turns double digits on 8th June 2023 and will be holding several events to celebrate, including a huge community celebration on the 10th of June. You can find more about Wigan Youth Zone's #10ForTheNextGen initiative here:  www.wiganyouthzone.org/ten-for-the-next-gen.
To learn more about how your business can get on board and support Wigan Youth Zone's #10ForTheNextGen campaign, contact sharon.mclaren@wiganyouthzone.org or visit the link above.