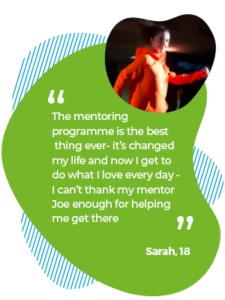 Sarah has been a member of Wigan Youth Zone for over 5 years and has been a dedicated Dance Studio member since day one. Sarah is now 19 and ended her time with Wigan Youth Zone in September 2020. Sarah is someone who fully appreciated everything Wigan Youth Zone had to offer. Sarah dedicated herself to dance and performing arts which has lead Sarah to do performing arts at college and has been accepted to a handful of higher education courses in London.
A letter to the Youth Worker
"Basically I have got into Mount View University! (Mountview Academy of Theatre Arts is a drama school in Peckham, south London). I am writing because without Joe and the Dance Studio at Wigan Youth Zone, I really don't think I would have got in!
I can't put into words how amazing and inspiring Joe has been these last three years. He has really helped me get there, it means the world to me how much effort Joe has put into my performing arts career, and I want to thank Wigan Youth Zone for everything and your time, effort and commitment to me. I never wanted to sing in front of people or act in front of people, but I did it with the help of Joe. We had such a fun time and it really did help!
Thank you so much for pushing me in everything I do, because this has really helped me get where I am today. Because honestly I don't think I would be doing the career I have today. If I had still been in dance and Joe hadn't walked into the Youth Zone, I probably would have stopped going and I would have never ever done musical theatre for a career.
It's mental how people can change your life. I can't believe it, I want to thank you for everything."