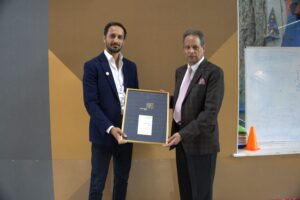 Millennium Care, a leading family-run care provider, proudly announces its partnership with Wigan Youth Zone as a Gold Patron. This collaboration marks a significant milestone for both organisations as they join forces to enhance the wellbeing of young people at Wigan Youth Zone, through sport.
Established in 1993, Millennium Care has built a strong reputation as an award-winning care home group with five exceptional facilities spanning across Lancashire and Greater Manchester. Their commitment to delivering person-centred care, coupled with an innovative approach, has allowed their residents to enjoy a luxury lifestyle while retaining their independence and freedom of choice.
The partnership between Millennium Care and Wigan Youth Zone aims to create transformative experiences for young people and seniors alike. By fostering intergenerational projects, both organisations seek to bridge the gap between different generations and build a stronger community.
Through this collaboration, Millennium Care will direct their support to Wigan Youth Zone's wellbeing work, delivered by theirSports Department. By investing in the physical and mental wellbeing of young individuals, the partnership endeavours to empower them to lead healthier and more fulfilling lives.
Millennium Care is enthusiastic about the opportunity to engage its residents in joint initiatives alongside the vibrant young members of Wigan Youth Zone. These intergenerational projects will encourage meaningful connections, exchange of knowledge, and a sense of purpose for both parties involved. The collaboration is expected to ignite a sense of joy and fulfilment among the residents of Millennium Care, who will relish the opportunity to contribute positively to the lives of Wigan's younger generation.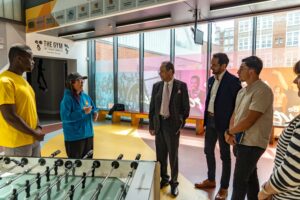 Speaking on behalf of Millennium Care Mr Haider, Millennium's Founder expressed their delight about the partnership, stating, "We're delighted to have started this partnership with Wigan Youth Zone, as an employer in the local area for almost 50 years it's great to support young people and brilliant causes in our region.
"Wigan has given me and my family so much; I'm grateful Millennium Care will be able to contribute in some way to the next generation of our community through the amazing work of Wigan Youth Zone."
Anthony Ashworth-Steen, CEO of Wigan Youth Zone, expressed his enthusiasm, stating, "We are thrilled to welcome Millennium Care as our Gold Patron. This partnership represents a significant milestone for us as we strive to inspire and empower young people in our community to reach their full potential. By working in partnership with Millennium Care, we can create meaningful connections between our young members and their residents, fostering a sense of belonging and mutual growth. Together, we will build a brighter future for the youth of Wigan."
If you'd like to find out more about supporting this life-changing charity or would like to arrange a tour to see the difference Wigan Youth Zone is making, then please email sharon.mclaren@wiganyouthzone.org