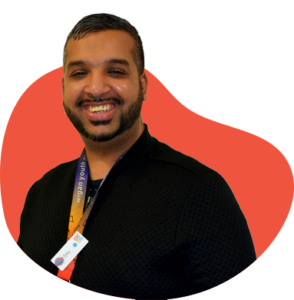 1. Introduce yourself :
Hi, I am Sikander Ali, a.k.a Siky and I am Head of Operations at Wigan Youth Zone
Tell us a little bit about yourself outside of Youth Work :
Outside of work I am a family man, I have been married to my wife Farrah for 13 years and we have 4 Beautiful children with the youngest being 6 weeks old sharing her birthday with Wigan Youth Zone 8th of June. I'm a bit of a car enthusiast and a keen Cricket fan (A sport that involves a bat, not just a ball 😉)
Tell us about your early career:
I've always had a high work ethic, even when I was younger, I was involved in the family business from a young age to earn my spending money and then in my later high school years was a steward at Balckburn Rovers FC, before learning the call centre trade at studio catalogues and then spending 4 years at Capita TV licensing whilst studying at college and Uni. 
When did you know that Youth Work was the career path for you?
I had lived experience of youth work as I started attending my local youth clubs from the age of y to the age of 16 when I started volunteering as a senior helper to age 18 when I landed my first job as a sessional youth worker. At age 15 I became the Youth MP for Blackburn with Darwen Council and it grew my confidence that this could be a career I cay get into and I loved the whole experience. 
Tell us about your Youth Work Journey
As I was leaving college I was passionate about going on to study for a youth work degree but I was knocked by a family that it wasn't a career to develop a future in, it's great to build experience but not to settle. So the good boy inside me followed the advice and went on to study Sociology and Criminology at Salford Uni and then studied further by completing my PGCE which qualified me to teach. All along I was making roads in the youth sector and rapidly being known on the scene as a real upcoming youth worker. Working 5 nights a week in youth clubs across Blackburn. 
I landed my first teaching job in Oldham without applying straight from my placement and I was on a good salary but 12 months in not sure what hit me anI I heard about the launch of the National Citizens Service (NCS) programme, a brand new programme launching across the country in 2011 and Bolton Lads & Girls Club were one of 12 partners in its initial Pilot year and I was like I want to be part of it. So the good boy packed his teaching career in to roll my sleeves up to get back full-time in youth work. The excitement of this programme and the momentum it built and being part of something brand new with huge targets that we smashed was incredible and being directly contracted by the cabinet office was truly exciting. 
Why Wigan Youth Zone?
As I worked in Bolton Lads & Girls Club from 2011-12 I saw the launch of Onside NW at the time and with Bolton (BLGC) being the model it was based on we saw all the development of these brand new state of the Art Buildings Oldham, Manchester, Blackburn and Carlisle, we took young people over to pre-openings and consulted young people on what they should look like. At the time our Youth Work Manager Phil moved over to come and launch Wigan Youth Zone and lead the youth work team which was due to be open in 2013. This was a really exciting period within the North West where YZs were popping up and making waves. One evening I took a phone call from Phil Marsh if I fancied coming over to Wigan and helping its launch. Before I know it I was based out of the porta cabins in Ainscough industrial around a team of 6 (with 2 of the day 1 mover and shakers Lisa and Kate still part of the Dream Team) and we were hitting schools, town centre, cinema's you name it to spread the word that Wigan Youth Zone's coming to Town. 
I wasn't ever sure if this was going to be me 9 and a half years later but what a journey it's been. From leading our Enterprise and Employability Team to great successes, Followed by being Senior club and Targeted Duty Manager working Friday/ Saturday and Sunday nights, I was then invested in to go on and complete the first-ever cohort of the Onside Talent Development programme which connected me with likeminded upcoming future leaders of the youth zones from across the Northwest. Upon Completion of this, I landed the role as initially Maternity cover as Youth Work Manager then led to the permanent role in around 2017. since I was then invested in by completing my Level5 Leadership & Management Qualification with FLM and my Level 5 Coaching via Onside once again alongside an opportunity to go on Secondment to Manchester Youth Zone as their Deputy CEO which has just enhanced my experience even further to come back and support the Wigan team. 
Tell us one of your Wigan Youth Zone Highlights.
Do we have a few pages???
My biggest Highlight was leading the Cookie Mad Young Enterprise project to Local, National and European Success. What an Achievement by a group of kids from Wigan from different high schools coming together and dreaming for success and making it happen (A real Wigan Fairytale). The group come up with a unique product that had pure Wiganers charm and just slicked their way into rolling in the Sales. The business come runners up in the Wigan Area Final to a team from Winstanley which just pushed them to WIN the Greater Manchester Final to then represent Team UK at the European Trade Fair in Austria winning the Best product Award…….. A year later at the Onside Enterprise Competition, the way two of my teams won the first and second spot and went onto trade at the 02 Arena at the 2016 Retail Week where John Roberts secured an opportunity for our young people to present on the main stage infront of Touker Suleyman…….. Aswell to travelling to Austria, Traveling to New York with our Dodgeball team competing in the Dodge ball world Cup at MGM was Pretty cool…
 Through your vast experience at Wigan Youth Zone, are there any common themes that young people in Wigan and Leigh are facing?
Over the years we have seen many trends go up and down, When we first opened it was the Fri and Saturday night drinking culture where we had to stand at the front door confiscating alcohol to now where we don't see any alcohol and instead young people's Mental health and the impact of covid has affected young people along with the cost of living and poverty with the number of free meals we have to give. We have had to invest heavily in our wellbeing programme from having Councillors, x 3 wellbeing workers and a culture of health co-ordinator just to offer the support our young people need.  
You are now head of operations, can you tell us what you have planned now and for the future of WYZ?
We have some really exciting times ahead leading into our 10th Year Birthday, we have a team who work their heart out for the young people of Wigan and Leigh and we are constantly evolving with this amazing team and building on it. But some of the other key highlights for this year are:
Our partnership with the new Leigh Youth Hub a brand new youth provision at Leigh Sports Village where we will be working with Wigan Council to launch a whole new Employability programme this September working with over 100 NEET young people from Sept 22 to Aug 23.
Over half a million visits later and 9 years' worth of meals being served our Cafe area is getting a full new makeover with a state of the Art modern looking cafe being installed along with a trendy game zone area for our young people, With our young people being involved in the full design and colour choice of the makeover. We are also having a new 121 and wellbeing room installed behind our reception which is something we need after the increase in issues around mental health, due to this we have wellbeing workers on every shift we are open to supporting young people and the demand for them is huge.
After having our busiest winter since opening coming straight after the pandemic, we are gearing up to repeat it this year where we will be ready to work with up to 250 young people every night…
Why are the community and supporters so important to Wigan Youth Zone?
One thing which has kept me in love with Wigan is the community spirit of the Town, Wiganers have come out and backed Wigan Youth Zone and that is the key reason we are one of the flagship youth zones out of the 14 youth zones in the Onside Network with our attendance and reputation. As a charity WYZ could not open its doors to young people if it wasn't for our family of supporters who have backed us from when we opened and then backed us when the pandemic hit and said Team WYZ do what you do best and don't let the young people of Wigan suffer anymore, we couldn't thank our supporters enough for how much their support has meant so we can open our doors all year and in return the impact this has had on the community and the future of the Borough.