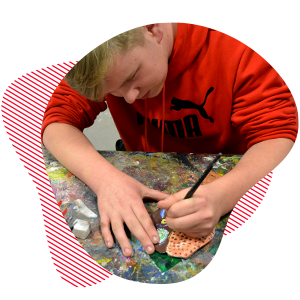 Josh Smallman, 17
Comment from Youth Forum Youth Worker; "Josh continues to blow me away, I've known josh for a long time, and his transformation into who he is today is incredible! He is such a reliable, hardworking and dedicated young person, who to this day can still surprise me with new things he is doing, or ideas that he has come up with! Things don't always come easy to josh, but he's put a lot of hard work into getting to where he wants to be and this does not show signs of slowing down. He's always at the forefront of new projects, throwing out ideas in forums, and taking a lead on work that needs doing. I'm so happy and proud that Josh is part of WYZ youth voice!"
Introduce yourself:

"I live in Leigh, I live with my dad and my 4 four annoying sisters. Home life is alright, we have nice chats and it's pretty chill. Living in Leigh is alright, it's not the best place, there's some idiots and it always smells of weed but it's alright most of the time.
I got told about youth zone, between year 7 and 8, and people I know where talking about it, and someone told me about the outreach bus from Higherfold, as I was worried I couldn't get to Youth Zone, as it might of been a bit too much money, and I'd never been to Wigan before and I didn't know my way around so the Outreach really helped me to get to the youth zone.

If I hadn't come to youth zone, I wouldn't have been doing much, just sitting down and playing games and not getting out, as back then I didn't have a lot of friends and I got bullied sometimes. A youth worker told me about the youth forum, and it sounded good, so I asked for more information, and I went the next week, really enjoyed it and stayed ever since.

How did you feel when you first started? How do you feel now? Why?
"When I first started I was really shy, I know I don't look it now but I really was. Now, thanks to the Youth Zone, I am a lot more confident and I have friends that I don't think I would have had otherwise. At the start I didn't know anyone, so I kept myself to myself, and slowly I started joining in more and doing more stuff, and more opportunities came along that I got involved in, as going to the youth zone helped me feel more confident to do all this stuff.
Now I've got a lot more friends and a lot more confidence and more skills. I don't get bullied now and am confident in talking to new people. When I first started the Youth Forum it helped me to get better at public speaking. I wasn't the best at public speaking, it made me nervous, and I stumbled a lot. I like it now, it's fun and helps me with my course at college, which is performing arts!"

Describe any challenges or obstacles you have overcome thanks to attending the Youth Forum, and how it has helped?
"One challenge, like I said, has been my public speaking. I used to stumble over words, and I've improved this a lot. I'm still not the best, but I'm getting there. Youth Forum and the Youth Zone have helped with my confidence, and I've made so many new friends! They have helped me boost my creativity and it's taught me how to put my ideas forward and my ability to think of more ideas."
What do you like about attending the Youth Forum?
"The forum is a laugh, and really enjoyable. It is something different to do at youth zones. I really like the people in it, and it's a good environment to be creative and it's fun. One thing I'm really proud of is the chill out zone project I was part of. The chill out zone is an outside space for young people, and I remember when Siky came in and told us it was approved, and I was really proud as it's something we had all worked hard on.
Recently I've been part of a group of young people from forums across the OnSide Network, seeing everyone's different views, and everyone's different ideas have been really good, and a good way to learn, help each other and it's just a nice thing to do.
I also did a video, giving a tour of the Youth Zone showing off different areas, and I hope it'll get new people to come. When I first got asked to do it, I felt really proud that I had been chosen out of everyone! I was a bit nervous but excited as well, but it went really well, I love how it turned out and I'm so proud of myself. I love that video so much! Youth forum really challenges you, allows you to be creative, and help all young people get what they want, and I feel honoured and proud to be part of that amazing opportunity! The youth zone is so much fun, there's always loads of things to do, people to talk to and it's something different all the time. I wouldn't be where I am today if it wasn't for the youth zone. I'm really thankful for everything youth zone do and the opportunities I get."