Wigan Youth Zone is pulling out all the stops by offering a free bus service from Leigh to Wigan to ensure that all young people in the Wigan and Leigh borough can access its life-changing services.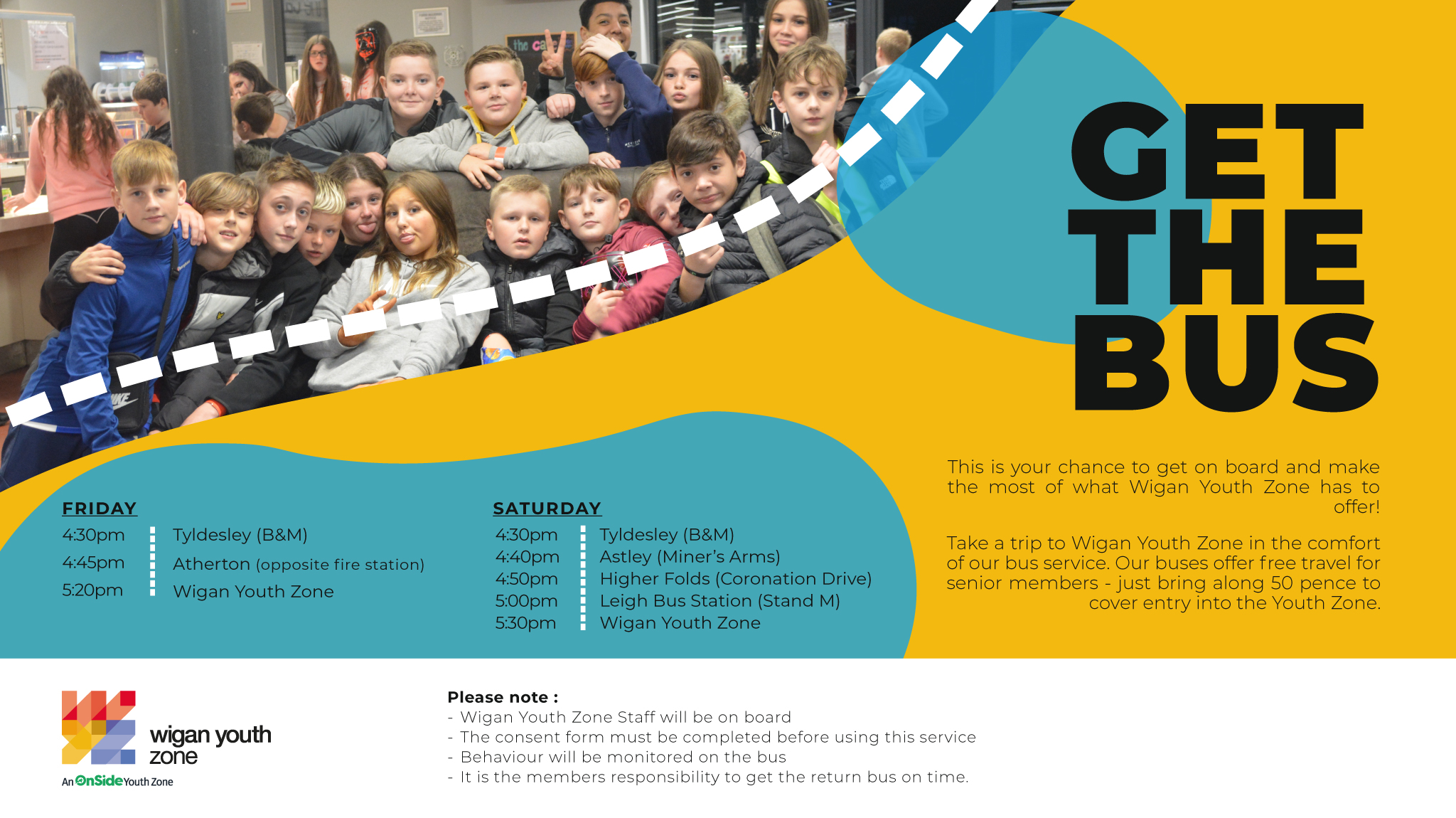 Launching with a bang on Saturday, November 5th, Wigan Youth Zones' bus service will be a permanent provision running every Friday and Saturday evening from Leigh and Tyldesley with pick-ups at Atherton, Astley and Higher Folds. The bus service aims to entice young people from Leigh aged Year 7 – 19 (or 25 with additional needs) back onto the bus ensuring that there is somewhere to go, something to do and someone to talk to.
Wigan Youth Zone provides a safe space for young people to socialise, and enjoy hot meals in a warm environment. Young people have the chance to talk to Youth Workers each time they visit the Youth Zone about anything that is important to them whilst providing an exciting programme of engaging activities to educate, entertain, challenge, develop and motivate its members.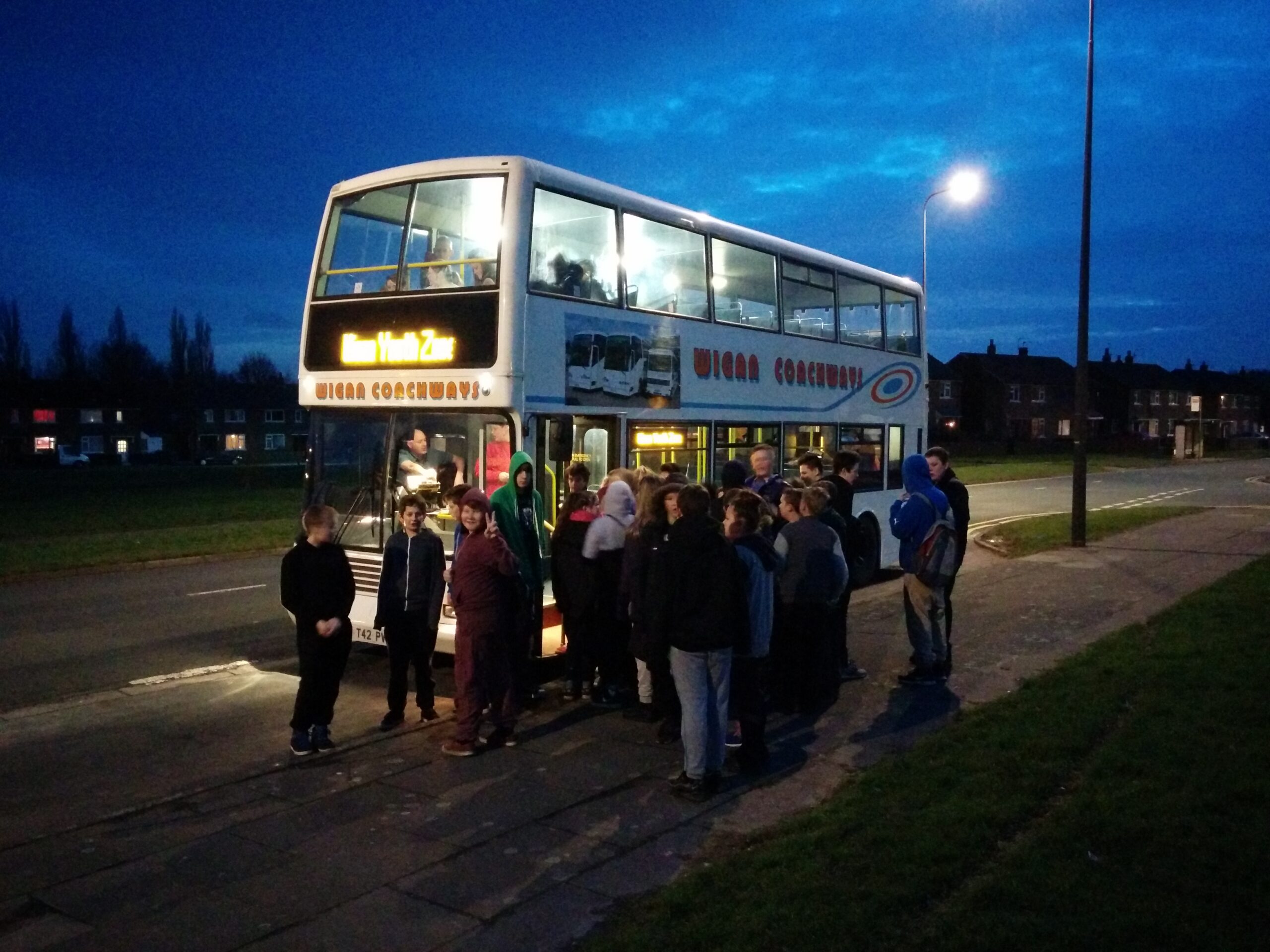 Michael McCurdy, Outreach and Detached Coordinator at Wigan Youth Zone on Parsons Walk – which is the town's flagship provision for young people said,
"Wigan Youth Zone is a fabulous building with incredible facilities. We offer a range of activities for young people where young people can do everything from football to rock climbing, cooking and music. The idea is that they come in and it's a fun, safe and welcoming place to be, and they get the opportunity to try lots of different things. At the moment we are seeing just over 200 young people an evening."
"We're very aware that we are facing tough times and that in distant communities, young people not having access to services like Wigan Youth Zone can contribute to social isolation and reduced well-being. It's important for us here at Wigan Youth Zone that everyone can benefit from the service and not just those who live closest to the centre, as such we have a dedicated Outreach Team to bring young people from far and wide into the youth zone to engage with our activities."
Max Collins aged 17, who regularly uses the WYZ minibus service:
"Using the free Wigan Youth Zone buses over the past few years has given me the chance to get involved in loads of things such as fitness programmes and Youth Voice as well as regular time with youth workers that has helped my self-confidence."
Wigan Youth Zone is about levelling the playing field and giving young people in the Wigan and Leigh Borough the inspiration and opportunity to thrive.
As a local, independent, charity, Wigan Youth Zone is reliant on the support of the local community to ensure that their vitally important universal and targeted services can continue for young people in Wigan and Leigh. Wigan Youth Zone is only possible thanks to financial support from Wigan Council, local businesses, philanthropists and supporters, grant-giving organisations and young people who contribute to its annual running costs, but the new investment is required in order to enable the charity to continue offering the breadth and depth of its services.
For more information on how YOU can support Wigan Youth Zone to achieve its vision, please contact Lynsey, Head of Fundraising, by email lynsey.heyes@wiganyouthzone.org or call 01942 612061.