Dreams come true for Wigan Young Person as she secures a place at a top independent school.
Through Wigan Youth Zone, Iris was awarded a fully-funded bursary to study at Bolton School a leading independent school in the North West via the 'Flourish' programme.
Bolton School has a long and distinguished history of providing outstanding all-round education, with high aspirations for all of its students to identify and cultivate their own special interests and talents. The school has own of the largest endowed funds in the country to financial support pupils through their academic studies. Last year alone, the school added more than £1M to the funds to support students through bursaries and hardship funding.
The Flourish Programme is a free series of enrichment and discovery activities for young people currently in Year 5 and is open to those who would like to take the opportunity to experience life at Bolton School. Last year, a group of Wigan Youth Zone members performed in Peter Pan production, learned various languages, ventured into digital design and tried their hand in the science labs. Alongside, engaging with activity the Flourish programme seeks to encourage participants to go through the admissions process of Bolton School.  There is an opportunity to understand the structure of the school, its values and its aspirations for pupils that attend there. Participants will also have the opportunity to gain key academic skills to help them prepare for admission and to ensure that the process provides participants of the Flourish programme with is a level playing field, where every child has an equal chance of success, regardless of their background or their family's ability to help them prepare.
Last year, after taking part in the Flourish programme, Iris impressed the admissions committee by showing off her incredible intellectual abilities whilst demonstrating her character and values. Of the five incredibly talented applicants, Iris was the only Wigan Youth Zone member have been given a fully-funded place.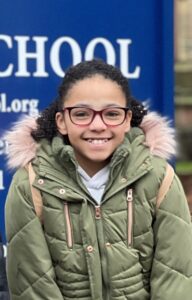 Abbie-Lou Wright:  The Base Coordinator and Holiday Club Youth Worker
"Iris is such a brilliant and bright young person, spending her time here at the youth zone getting involved and interacting with all exciting activities, after having the wonderful opportunity of knowing Iris over the years she has been coming I have seen her personal development and the achievement of her goals, all whilst being in support of her friends. I wish her all the best of luck on this well-deserved journey and look forward to following along with the amazing achievements I know she is capable of."
Vanda Graca Iris's Mum said
"Iris was only 8 when she joined Wigan Youth Zone, she was a very shy little girl and I still remember her first few sessions, she was always so anxious about going on her own and if her friends weren't there she wouldn't go.
During the pandemic, she engaged with a group of girls via zoom and participated in the Empower program, and this was the push that Iris needed, she became so much more sociable and so confident in herself, she wasn't that insecure little girl anymore.
In October, she was invited to participate in the Flourish programme at Bolton school. When I received the phone call from Dr Mullins saying that she had passed her exams/interviews and that she had been offered a place at Bolton School, I was over the moon, so proud of her. This is an amazing achievement at such a young age!"
"Everyone out there that struggles to step out of their comfort zone: This shows that doesn't matter where you come from, YOU are the only one that has the power to write your own story. If you believe in something, then you can do it! Because dreams do come true!"
Iris Graca, excited about the opportunity said
"Thank you for giving me the opportunity of getting into Bolton School. This will really help me because Bolton is one of the best schools; I know it will help me get a good job when I am older. Without you I would have never got into Bolton or had the amazing experience with the Flourish program, it was so much fun. I am really grateful."
Wigan Youth Zone has worked with over 28,000 young people since opening over eight years ago and is committed to their empowerment by offering them somewhere to go, something to do and someone to talk to every day.
It is hoped that with the continuation of such initiatives like the ones above, Wigan Youth Zone will continue to give back to the wider Wigan and Leigh communities. Wigan Youth Zone is now recruiting for the next group of young Wiganers in Year Five to take part in the Flourish Programme.  If you are interested please contact Wigan Youth Zone's Junior Club Manager at Chris.Dean@wiganyouthzone.org.