Our get-a-job course is an eight-week programme that is aimed at helping young people aged 16-24 to progress into education or work. The course covers a variety of topics that are essential for success in the working world. Participants learn how to write CV's, cover letters, and even gain extra qualifications such as first aid and money management.
We have had so many successful work placements and apprenticeships for our members and are extremely proud of all of the young people who have taken part in the course.
Ryan, one of our recent Get-A-Job participants, has managed to secure himself a full-time job with one of our amazing Bronze patrons, Bethell.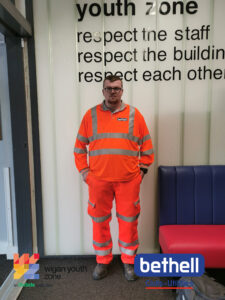 Established in 1865, Bethell Group is one of the UK's leading privately-owned construction and utility services companies. They combine experience with the latest innovation and technology to provide clients with economic solutions in an integrated way covering the civil engineering and multi-utility sector.
Ryan originally attended our get a job course in 2020, but only managed to do it one week before the pandemic, unfortunately, forced us to close our doors.  However, he restarted the course in June 2021 and was able to gain valuable experiences and knowledge that ultimately helped him to secure his new working position.
Ryan struggled throughout the lockdown but fortunately, he persevered. With enough hard work and determination, alongside some support from our Get-A-Job course, he is now well on his way to climbing up the career ladder and becoming very successful.
Get a Job Student, Ryan said:
"The course went really well – getting to understand how to do applications really helped. The work experience really improved my confidence and I am grateful for the opportunity that I was given. Thanks to the Youth Zone, I now have a job in a sector I really wanted."
Kim Owen, Enterprise & Employability Coordinator said:
 "Ryan was skeptical at first that the course could support him in the way he needed, but I pride ourselves in the relationships we are able to build with our learners and recognising that a mixture of employability skills and wellbeing sessions were needed to support Ryan.  He pushed himself outside of his comfort zone and because of his determination took the challenge of work experience head-on, it's amazing to know that Ryan is now in full-time work in a job that he really wanted."
If you're interested in learning more about our get-a-job course, or if you are a business that may be able to offer work experience/work placements for a young person, please email kim.owen@wiganyouthzone.org.  You can also find more information here.